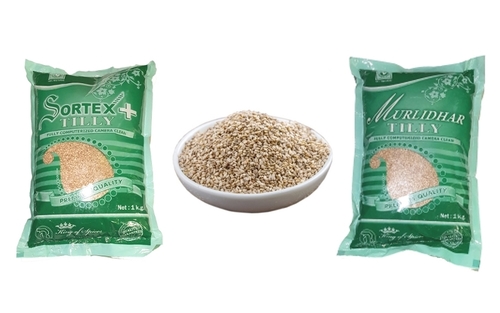 White till
Product Description
Seasame Seeds
Botanical Name :
Sesamum Indicum L
Indian Names :
Tilly, Tal, Til, Yel, Ellu, Tila, Nuvvula
Family : Pedaliaceae
Commercial Part : Fruit
Sesame is an oil crop which is widely grown in India and China. Sesame is a common ingredient in almost all cuisines around the world. With a rich nutty flavour, it has gained an important place on kitchen shelves. Sesame plant is a tall annual herb, which grows extensively in Asia, particularly in Burma, China, and India. It is also one of the chief commercial crops in Nigeria, Sudan and Ethiopia. Sesame seeds come in many colours depending on the cultivar harvested. The size, form and colours vary with the thousands of varieties common colours are buff, gold, brown, reddish, gray, white and black. Foods prepared with sesame oil have long shelf life, because the oil contains an antioxidant called sesamol. The residual sesame meal left after the oil pressing is rich in protein and used as an excellent protein supplement for live stock. It is also traditionally used for its aromatic properties to prepare perfume. In ancient Egypt, Sesame Bear was widely popular as they had a religious myth that the creator of universe first had seasame bear. Saeasame oil also had a traditional value in Egyptians as it was used to illuminate lamps, and in the mixture they prepared to preserve bodies in "Mummies".
Medicinal Value & Use:
It is an important nutritional additive to salads and dressings. Sesame are an important sources of phyto-nutrients such as omega-6 fatty acids, flavonoid phenolic anti-oxidants, vitamins, and dietary fiber with potential anti-cancer as well as health promoting properties. Soaps prepared from this oil help to maintain skin health. It is used for massaging patients who suffer from paralysis, body pain and pain in joints. Helpful in conditions like diabetes and reduces frequency of urination.
Contact Us
Nathwani and Brothers, 9, Trishul Chambers, Nagnath Gate Jamnagar Gujarat India +918037304437
Phone :+918037304437