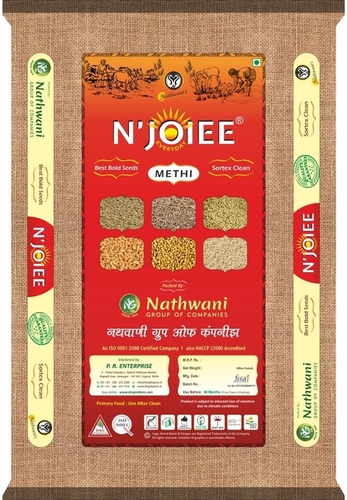 Methi NJOIEE 30 Kgs
Product Description
Fenugreek - Methi
Botanical Name : Trigonella foenum-graecum L.
Indian Names : Methi Dana, Methe, Menthya, Ventayan, Menthulu, Vendayam
Family : Fabaceae
Commercial Part : Fruit

Fenugreek is small stony seed from the pod of a bean-like plant well known as Methi. These seeds are hard, yellowish brown and angular. Some are oblong, some rhombic, other virtually cubic. They are available whole and dried, or as a dull yellow powder ground from the roasted seeds as dry roasting enhance the flavour and reduces the bitterness. Fenugreek is an ancient spice and is mostly used in Middle East, Northern- Eastern Africa and India, especially for pickles. In India, its fresh leaves are eaten as a tasty vegetable, which is prepared like spinach. NGC exports Fenugreek in whole & powder form.

Medicinal Value & Use:
In medicines it is used as a Carminative, tonic, aphrodisiac, emollient, antibacterial, used in vomiting, fever, anorexia, colonitis. Fenugreek is also used for the purpose of digestive ailments and they are used as a hair conditioner as well. Fenugreek extract is used as a flavouring agent of imitation maple syrup. It is one of the principle constituent of curry powder. The seeds are used in colic flatulence, dysentery, diarrhoea, dyspepsia, chronic cough and enlargement of liver and spleen, rickets, gout and diabetes. It is also used as a carminative, tonic, and aphrodisiac. Fenugreek oil is used in the manufacture of hair tonics.
Contact Us
Nathwani and Brothers, 9, Trishul Chambers, Nagnath Gate Jamnagar Gujarat India +918037304437
Phone :+918037304437