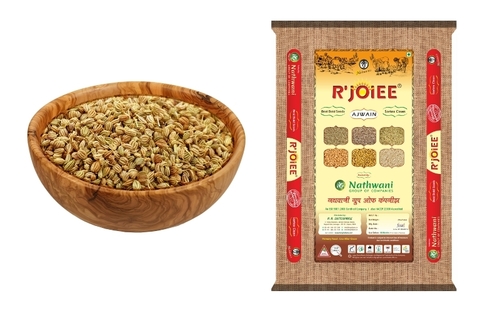 Indian Ajwain Seeds
Product Description
AJWAIN
Botanical Name : Trachyspermum ammi (L.) Sprague
Indian Names : Bishop's Seed, Ajmo, Jowan, Ajamoda, Omum, Jawind
Family : Apiaceae
Commercial Part : Fruit
Ajwain (Bishop's Seed) is very aromatic but less subtle in taste. It is a bit spicy, pungent and has a strong aroma. Even a small amount of ajwain dominates the taste of a dish. In India, ajwain is never used raw, but is either roasted or fried in ghee, which is done to develop a stronger and more prominent aroma. It is primary used as a digestive aid and ant emetic. Ajwain is often consumed after a heavy meal. It is commonly offered after dinner parties. Ajwain that we cater has a great demand across our customer base, because of strict supervision & premium quality, free from adulteration.
Medicinal Value & Use:
In medicines it is used as a Digestive, antispasmodic, stimulant, carminative, expectorant. Ajwain is much used as a medical plant in Indian Ayurvedic medicine, mainly as a remedy for diseases of the digestive tract. In the Western part of India, ajwain extract thymol is used in medicines for cough and throat irritation. It is traditionally used as a digestive aid, relieves abdominal discomfort due to indigestion and antiseptic. In southern parts of India dry ajwain seeds are powdered and soaked in milk, which is then filtered and fed to babies. Many assume that it relieves colic in babies and for kids it also improves digestion and appetite.
Contact Us
Nathwani and Brothers, 9, Trishul Chambers, Nagnath Gate Jamnagar Gujarat India +918037304437
Phone :+918037304437